About Us
We are a small, asian female owned business based in Brooklyn, NY.
At What a Cutie, we specialize in high-quality BioThane gears that are waterproof, stink-proof and super easy to clean! We want to provide dog owners with dog accessories that are not only functional but also fashionable, so you don't have to choose in between the two.
Why What a Cutie?
Safety First

We choose to use autolock carabiner for the leashes and heavy duty quick release buckle for the collars, so it's extra secure.

Endless Possibilites

With everything being handcrafted, you can customize from the colors to the style of the gear to better match you and your dog.

Stylish Gear That Actually Works

We design with your dog in mind, aiming to solve painpoints that others can't so you can enjoy life with your dog.
Our Story
Let's be real, we all started a dog business because of our dogs, including myself! Soon after I adopted my pandemic pup, I realize not a lot of brands make colorful dog gears that fit what I want. It's either functional but ehhh looking, or cute but doesn't fit my needs. That's when I have the idea to build a brand that provide fun & colorful dog gears, that's functional & customizable. Cuz hello? Who doesn't want stylish gears to match their dog's cuteness!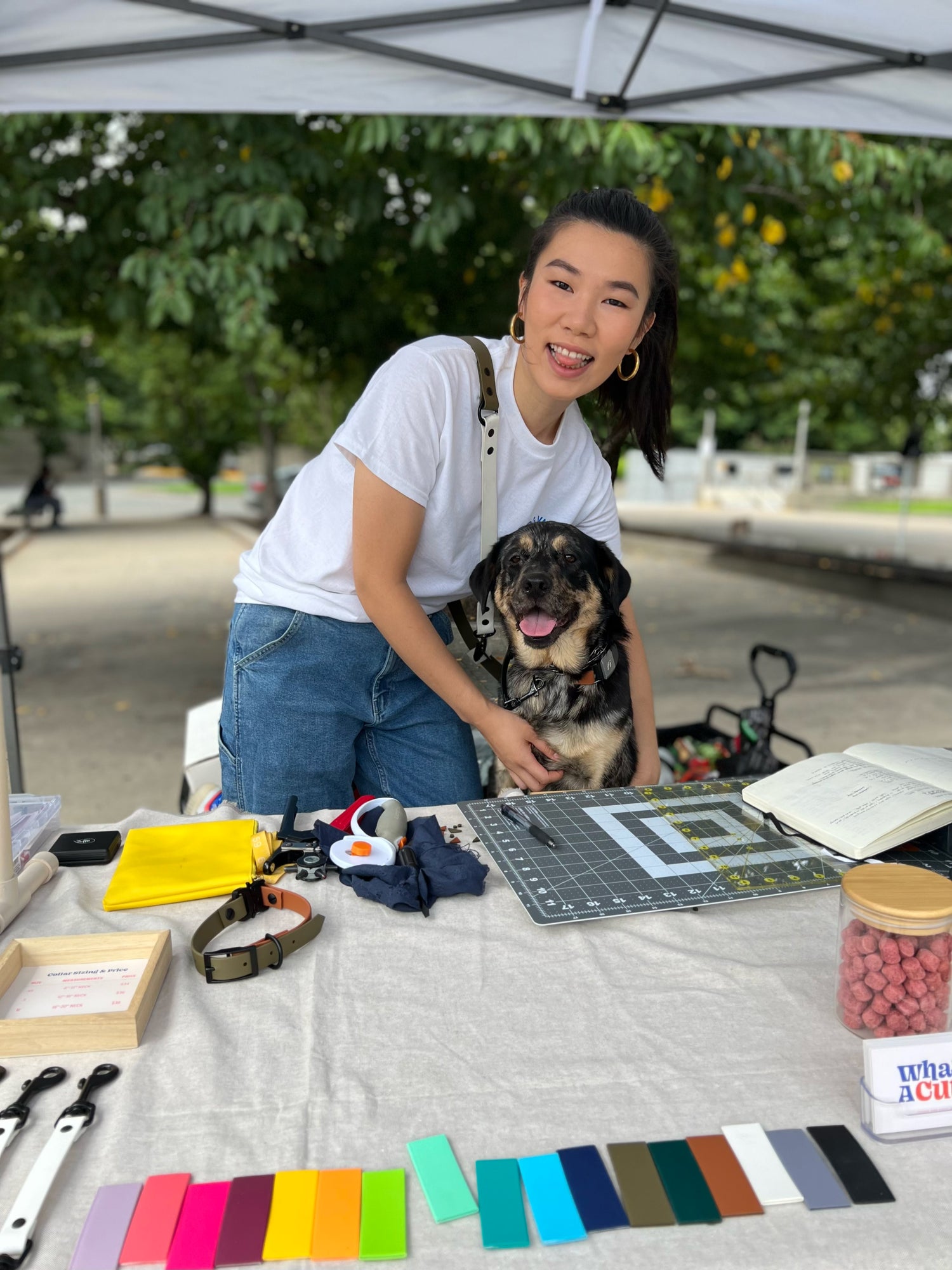 Meet the Founders
Hi, I'm Jenna and that's my best friend, Sesame! Our friendship started back in 2020 when my friend found her under a car in Dallas! The original plan was to find her a home there, but obviously, things didn't work out cuz she's now here in NY with us🤪

Some of her favorite things are to snuggle up on the couch, long walks in the park, and chomp on a good crunchy turkey neck!

As for me, I was born and raised in Taiwan, and moved to NY in 2015! Aside from managing What a Cutie, I'm also a packaging designer by day!

I'm very introverted, but since I started What a Cutie, it really pushed me to step out of my comfort zone and put myself out there. I'm def still awkward here and there, but wow, the connections that I made with you guys through my brand are still unbelievable to me to this day. I'm very thankful for you guys supporting my dream!